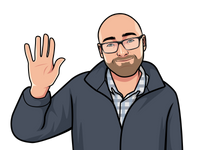 Hi Guys!
We are Mads and Ava, a DIY couple sanding and sailing our way around the world. 
 A few years ago, I (Mads) had a dream to buy an old boat, fix her up, and sail her around the world. Today I am doing just that. 
I started documenting the process on Youtube in 2014 while refitting my 1973 30 ft Albin Ballad sailboat. Since then, I've purchased a bigger and spiffier boat, Athena, a 1987 Warrior 38. Making videos was something that started off as an after-work hobby and a way to meet new people while sailing. Thanks to many of you, Sail Life has grown to over 450 videos and over one hundred thousand subscribers.
Not to mention it's how I met my future wife! Because of YouTube Ava and I met in 2017. In July 2021, she moved aboard full time and in September of the same year, we set Sail from Denmark. The current plan is to sail toward the United States and, of course, stopping in the Caribbean along the way ;)
Neither of us are sailing or, dare we say, sanding experts, but we share one dream. We both have a desire to travel the world, meet new people, get out of our comfort zones, learn from our mistakes, and live a life that is far from ordinary. On Athena, we are able to do just that.
Join the glorious sail life crew